Blog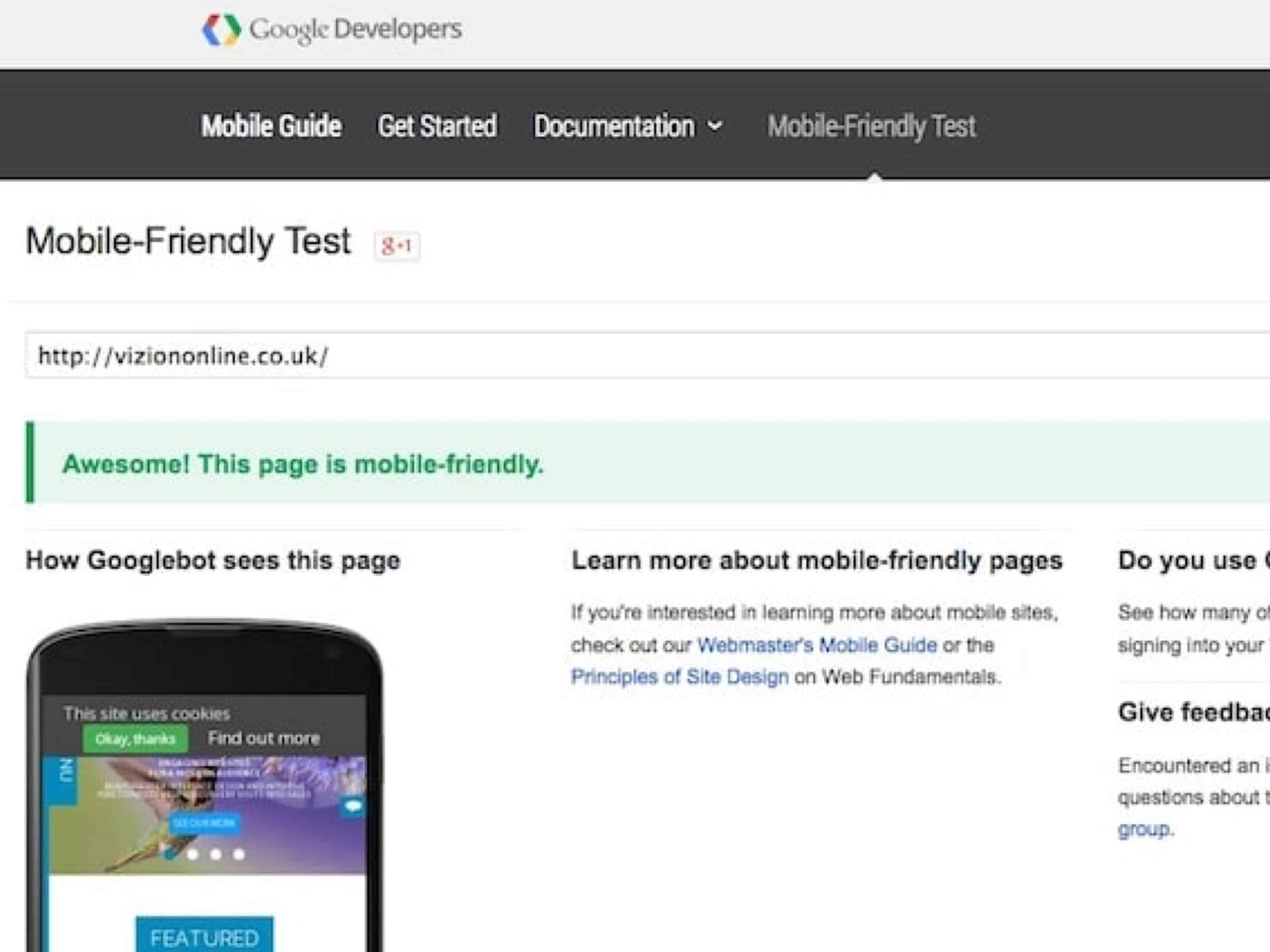 How Does Google's Mobile-Friendly Test Work?
13th April 2015
The phrase "mobile friendly" has been generating some serious buzz recently. The importance of designing websites which are compatible on a wide range of devices has been well known for 3 or 4 years. However, in recent months the intensity has increased yet again. Ever since Google announced that their next algorithm change would prioritise mobile-friendly websites in search engine rankings we've been hearing from more and more clients who want to know how this will affect their business.
With the 21st April just a few short weeks away, mobile-friendly websites are the talk of the web design world.
There are various reasons why Google are so concerned about mobile-friendly websites. Perhaps the most simple is that around 50% of all search traffic now comes from mobile devices. If Google are going to continue prioritising and meeting the needs of the end user then clearly the mobile-friendliness of a website is a huge factor, because websites that are difficult for mobile users to access will not represent a helpful search result. This has shocked those in the business world who don't have mobile-friendly websites.
Another less obvious reason why mobile-friendliness is so important is that it represents a marker of web design best practice. Websites that are mobile-friendly are far more likely to have been well built and provide a meaningful service to their users. Whilst there are many valuable websites which are not yet mobile-friendly, this will nevertheless be a real indicator of value going forwards.
How Does Google's Mobile-Friendly Test Work?
You might be wondering if your website is mobile-friendly or not. There are various ways to test this, including accessing your site on a range of devices. Whilst it's great to check out your site on multiple devices, this won't necessarily provided definitive answers about the mobile-friendliness of your website. Besides, mobile-friendly website design doesn't just involve the responsive design format of the website. It takes into consideration a wide range of factors such as speed and user experience.
Google have made the process nice and easy by providing a mobile-friendly test. To use Google's mobile-friendly test you simply enter the URL (web address) of your website and wait a couple of minutes while Google crawl and test your website.
You'll then get a result which tells you whether or not Google think that your website is mobile-friendly. If you've got a recent responsive website design then hopefully this will come back green and you'll have a mobile-friendly site. However, if you have an older website then this might not be the case.
At this point it's good to check out Google's resources on the Principles of Site Design or their Webmaster's Mobile Guide. You can also login to Google Webmaster Tools which will give you a fuller breakdown of the current performance of your website.
If you've got questions about mobile-friendly web design or would like to speak to an experienced web designer about your website then please don't hesitate to contact us.